Methandianone injection (10ml)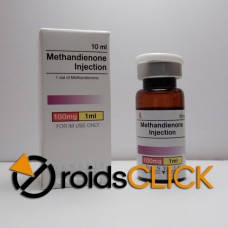 Methandianone injection (10ml)
100mg/ml (10ml)
Metandienone (INN) (brand names Averbol, Dianabol, Danabol, Metanabol, Naposim, Vetanabol), or methandienone (BAN), also known as methandrostenolone, as well as 17α-methyl-δ1-testosterone or as 17α-methylandrost-1,4-dien-17β-ol-3-one, is an orally active, synthetic anabolic-androgenic steroid (AAS) and a 17α-methylated derivative of testosterone (specifically, the 17α-methylated derivative of boldenone (Δ1-testosterone)).
Metandienone was originally developed in 1957 by CIBA and marketed in Germany and the United States. As the CIBA product Dianabol, metandienone quickly became the first widely used anabolic-androgenic steroid among professional and amateur athletes, and remains the most common orally-administered steroid for non-medical use.

Metandienone is readily available without a prescription, and is also manufactured in Asia and many Eastern European countries.