Tri-trenabol 150, British Dragon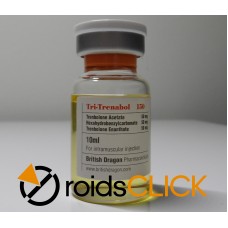 Tri-trenabol 150, British Dragon
Name: Tri-trenabol 150, British Dragon
Effective substance: Trenbolone mix
Content: 150mg/ml (10ml)
Administration: intramuscular injection
This compound contains:
Trenbolone acetate 50 mg
Trenbolone Hexahydrobenzylcarbonate 50 mg
Trenbolone enanthate 50 mg
Tri-Trenabol 150 is an excellent application for bodybuilding, but also it is popular in other sport disciplines. Trenbolone mix is used for various intents and purposes. This composition has advantages over pure products like trenbolone acetate, because the schedule of injections needed for a fast result is the min. of 2-3 times/week, and it can be uncomfortable for those who do not tolerate too much injections.
Tri-trenabolhas the ability to promote rapid growth of muscle size and strength,increase in performance thermogenic effect, which help to loose fat, and gives a clear muscle definition.