Testosterone Cypionate (10ml), Genesis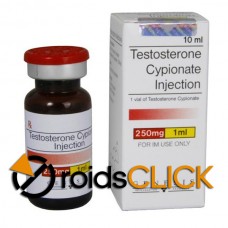 Testosterone Cypionate (10ml), Genesis
Testosterone Cypionate, GENESIS

Effective substance: Testosterone Cypionate

Content: 250mg/ml
BOX: with 1x 10ml vial
Administration: intramuscular injection
Known as: test-c, test c, cypio

250mg/ml (10ml)

Testosterone cypionate (brand names Depo-Testosterone, Test-C, testC, duratest andmany others), or testosterone cipionate, also known as testosterone cyclopentylpropionate or testosterone cyclopentanepropionate, is an androgen and anabolic steroid and a testosterone ester. Along with testosterone enanthate, testosterone propionate, and testosterone undecanoate, it is one of the most widely used testosterone esters.
It is true that synthetic testosterone is quite similar to the natural one. However, the problem with natural testosterone is that it works for only a few hours, before being wholly metabolized and excreted by the body. Synthetic testosterone, on the other hand, is esterified (addition of extra fat molecule). Esterification slows down its breakdown in the body and it acts longer. Thus if cypionate is added to testosterone than its half-life is extended for 10-12 days. It means that it remains in our body for about 20 days.

Testosterone Cypionate is among the long-lasting esters, with many benefit over other steroids:
Long-lasting action means that injection taken once a week is enough. For beginners or those with low body mass, even one dose in two weeks may work.
It is close to natural testosterone in structure. Thus it is very safe.
It is especially useful for bulking, that is improving mass and strength.
It also works well when taken with other steroids by advanced users as it helps to cope with the side effects of low T-levels in the body while on steroids.
Want to learn more about Testosterone Cypionate?