Anastrozole (arimidex), 50 tablets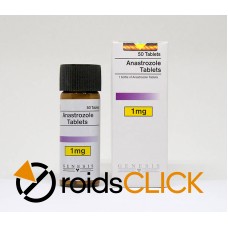 Anastrozole- it is an aromatase inhibitor (AI). Thus it helps control estrogen production in men. When using steroids estrogen is produced due to a chemical reaction called aromatization (often occurs in fat tissues). However, not all steroids produce this reaction. Thus the use of Arimidex is reserved for few cases.
One must understand that estrogen is also needed by men for good health. Thus AI should be used with caution. Arimidex can be used during the cycle to reduce side effects caused by aromatization. It may also be used post-cycle to prevent estrogen rebound.