T3+T4 (100 tablets), Genesis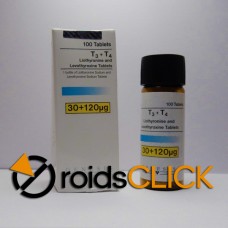 T3+T4 (100 tablets), Genesis
30 + 120 mcg/tab. (100 tab.)

The thyroid hormones, triiodothyronine (T3) and its prohormone, thyroxine (T4), are tyrosine-based hormones produced by the thyroid gland that are primarily responsible for regulation of metabolism. T3 and T4 are partially composed of iodine (see molecular model). A deficiency of iodine leads to decreased production of T3 and T4, enlarges the thyroid tissue and will cause the disease known as simple goitre. The major form of thyroid hormone in the blood is thyroxine (T4), which has a longer half-life than T3.[1] In humans, the ratio of T4 to T3 released into the blood is between 14:1 and 20:1. T4 is converted to the active T3 (three to four times more potent than T4) within cells by deiodinases (5'-iodinase). These are further processed by decarboxylation and deiodination to produce iodothyronamine (T1a) and thyronamine (T0a). All three isoforms of the deiodinases are selenium-containing enzymes, thus dietary selenium is essential for T3 production. Edward Calvin Kendall was responsible for the isolation of thyroxine in 1915.
The thyroid system of the thyroid hormones T3 and T4.
The thyroid hormones act on nearly every cell in the body. They act to increase the basal metabolic rate, affect protein synthesis, help regulate long bone growth (synergy with growth hormone) and neural maturation, and increase the body's sensitivity to catecholamines (such as adrenaline) by permissiveness. The thyroid hormones are essential to proper development and differentiation of all cells of the human body. These hormones also regulate protein, fat, and carbohydrate metabolism, affecting how human cells use energetic compounds. They also stimulate vitamin metabolism. Numerous physiological and pathological stimuli influence thyroid hormone synthesis.
Thyroid hormone leads to heat generation in humans. However, the thyronamines function via some unknown mechanism to inhibit neuronal activity; this plays an important role in the hibernation cycles of mammals and the moulting behaviour of birds. One effect of administering the thyronamines is a severe drop in body temperature.