IGF-1 LR3, Lifetech Labs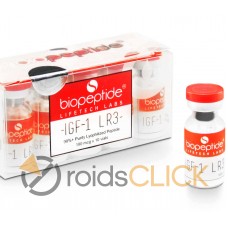 IGF-1 LR3, Lifetech Labs
Name: IGF-1 LR3, Lifetech Labs
Effective substance: Insulin-Like Growth Factor-I LR3
Appearance: Powder
Content: 100 mcg/vial (10 vials)
Administration: intramuscular or subcutaneously
Quite like HGH, IGF-1 is also taken to stimulate muscle growth and promote widespread anabolism. IGF-1 LR3 not only improves muscle hypertrophy, but it may also lead to muscle hyperplasia (growth of entirely new muscle fibers). It implies that IGF-1 can even help overcome certain genetic limitations. Further, it is highly beneficial for cartridge repair.
IGF-1 is not for beginners. It is for those who have been using steroids for longer time, and now they need something extra to boost their performance.
READ THE FULL ARTICLE ABOUT IGF HERE!