T3 tablets (100 tablets), Genesis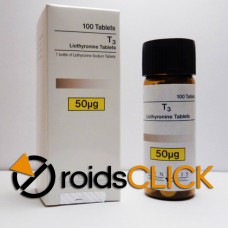 T3 tablets (100 tablets), Genesis
50mcg/tab (100 tablets)

Liothyronine is a synthetic form of triiodothyronine (T3), a thyroid hormone used to treat hypothyroidism and myxedema coma. It is also used as an augmentation strategy in treating major depressive disorder when used in combination with antidepressants.[1] It is marketed as the sodium salt under the brand name Cytomel (or Tertroxin in Australia).
Physicians may use liothyronine instead of or in addition to levothyroxine (T4) for patients undergoing thyroid hormone withdrawal. When a patient has thyroid cancer or Graves' disease, ablation therapy with radioactive iodine (131I) can be used to remove trace thyroid tissue that may remain after thyroidectomy (surgical excision of the gland). For 131I therapy to be effective, the trace thyroid tissue must be avid to iodine, which is achieved by elevating the patient's TSH levels. For patients taking levothyroxine, TSH may be boosted by discontinuing levothyroxine for 3–6 weeks. This long period of hormone withdrawal is required because of levothyroxine's relatively long biological half-life, and may result in symptoms of hypothyroidism in the patient. The shorter half-life of liothyronine permits a withdrawal period of two weeks, which may minimize hypothyroidism symptoms. One protocol is to discontinue levothyroxine, then prescribe liothyronine while the T4 levels are falling, and finally stop the liothyronine two weeks before the radioactive iodine treatment.
Liothyronine may also be preferred for patients with myxedema coma because of its quicker onset of action when compared to levothyroxine.[3]
Low-dose liothyronine has been shown to improve depression symptoms in patients with normal thyroid function who do not have adequate relief from their depression after trying several different antidepressants. When added to existing medications, liothyronine helped achieve remission in 24% of patients participating in a subset of the large STAR*D depression trial.According to a 2001 meta-analysis that analyzed the effectiveness of adding Liothyronine to tricyclic antidepressants, women in particular may benefit from Liothyronine. The average effective dose for depression was 45 mcg of Liothyronine daily, which is lower than the doses used for treating hypothyroidism.[4] About 9% of patients stopped taking liothyronine due to side effects. The difference in gender response may be due to differences in metabolism of thyroid precursors.
An algorithm developed from the STAR*D trial recommends liothyronine as an option when patients have failed two antidepressant medications.