Bolde 250 (10ml)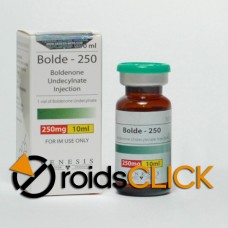 Bolde 250 (10ml)
Effective substance: Boldenone undecylenate

Content: 250 mg/ml
BOX: with 1x 10ml vial

Administration: intramuscular injection
Known as: bolde, equipoise
Boldenone (INN, BAN), also known as Δ1-testosterone, 1-dehydrotestosterone, or androsta-1,4-dien-3-one-17β-ol, is a synthetic anabolic-androgenic steroid (AAS) and the 1(2)-dehydrogenated analogue of testosterone. Boldenone itself has never been marketed; as a pharmaceutical drug, it is used as boldenone undecylenate, the undecylenate ester.
This section does not cite any sources. Please help improve this section by adding citations to reliable sources. Unsourced material may be challenged and removed. (April 2009) (Learn how and when to remove this template message)
The activity of boldenone is mainly anabolic, with a low androgenic potency. Boldenone will increase nitrogen retention, protein synthesis, increases appetite and stimulates the release of erythropoietin in the kidneys. Boldenone was synthesized in an attempt to create a long-acting injectable methandrostenolone (Dianabol), for androgen deficiency disorders. Boldenone acts similar to methandrostenolone with fewer adverse androgenic effects.[medical citation needed] Although commonly compared to nandrolone, boldenone lacks progesterone receptor interaction and all the associated progestogenic side effects.