Deca bulk cycle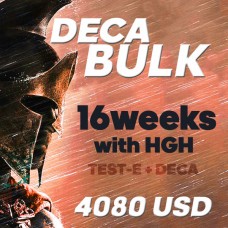 Deca bulk cycle
This cycle should be used only by experience athletes! NO BEGINNERS! If you are new to cycles check the Beginner cycle HERE.

This is a pretty moderate cycle here. Start the deca a couple weeks after the test. It is to make sure the testosterone is built up before adding the deca. Proviron is being introduced after test levels are peaking. Oxy is going to be pulsed around mid cycle with a big finish of it at the end. You can receive great results with the HGH/IGF combo.
You should be able to put on 20+ lbs (9+ kg), most of it should be quality.

As far as ancillaries you can use .25mg E3D of
Anazole (arimidex)
and have some caber on hand along with taking usual liver supp.
You will receive:
4x Testosterone Enanthate, Genesis= 216 USD
3x Nandroolone decanoate, Genesis= 213 USD
4x Mesviron 25 (proviron), Genesis= 320 USD
2x Oxymetholone, Genesis= 258 USD
12x Genotropin 36iu box, Pfizer= 2950 USD
1x IGF-1 LR3, Odin Pharma= 700 USD
1x Anastrozole (arimidex), Genesis= 59 USD

Regular Price= 4716 USD

Discount "cycle" price= 4080 USD
CYCLE LOG:

| | | | | | | |
| --- | --- | --- | --- | --- | --- | --- |
| WEEK | Test-E | Deca | Proviron | Oxy. | HGH (genotropin) | IGF |
| 1 | 600 mg | | | | 4iu ED | |
| 2 | 600 mg | | | | 4iu ED | |
| 3 | 600 mg | 420mg | | | 4iu ED | |
| 4 | 600 mg | 420mg | | | 4iu ED | |
| 5 | 600 mg | 420mg | 50mg ED | 50mg ED | 4iu ED | 40mcg ED |
| 6 | 600 mg | 420mg | 50mg ED | 50mg ED | 4iu ED | 50mcg ED |
| 7 | 600 mg | 420mg | 50mg ED | | 4iu ED | 50mcg ED |
| 8 | 600 mg | 420mg | 50mg ED | | 4iu ED | |
| 9 | 600 mg | 420mg | 50mg ED | 50mg ED | 4iu ED | 40mcg ED |
| 10 | 600 mg | 420mg | 50mg ED | 50mg ED | 4iu ED | 50mcg ED |
| 11 | 600 mg | 420mg | 50mg ED | | 4iu ED | 50mcg ED |
| 12 | 600 mg | 420mg | 50mg ED | | 4iu ED | |
| 13 | 600 mg | 420mg | 50mg ED | 50mg ED | 4iu ED | 40mcg ED |
| 14 | 600 mg | 420mg | 50mg ED | 50mg ED | 4iu ED | 50mcg ED |
| 15 | 600 mg | 420mg | 50mg ED | 50mg ED | 4iu ED | 50mcg ED |
| 16 | 600 mg | 420mg | 50mg ED | 50mg ED | 4iu ED | 50mcg ED |